Hardekar Manjappa
Hardekar Manjappa was born on 18th February 1886 as son of Madhukeswarappa in a poor family of Banavasi village of Uttara Kannada district.
He studied in Sirsi and passed the Mulki or primary school final examination in 1903. He was started his career as a teacher on a salary of seven rupees a month.
In 1906 swadeshi movement was on he was very much influenced by Tilak's movement and left his teacher's job and came to Davangere and on 2nd September 1906 started a weekly Dhanurdhari, with more than 10,000 subscribers.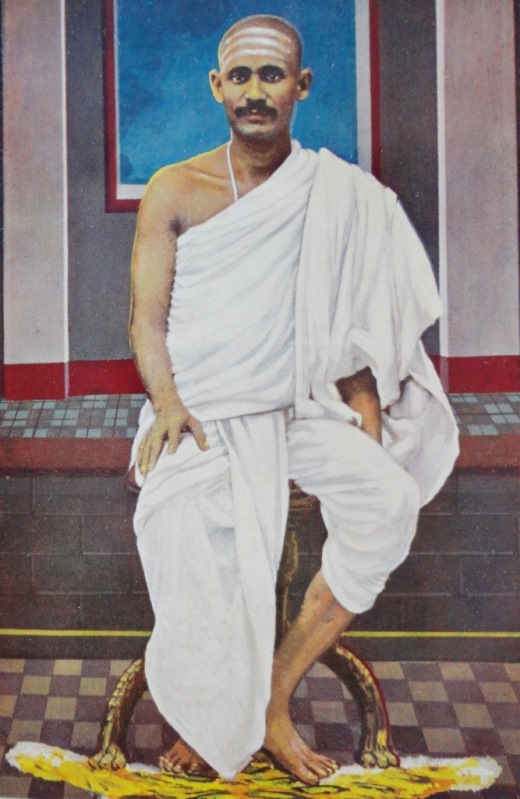 Manjappaji decided to serve the society and to lead the austere of life of a celibate for this he gave up salt, spice and even sugar from his normal diet of dal and rice.
He was slowly influenced by Saint-Reformist Basava's teachings. He was shocked to observe so many groups and sects among Lingayats. This sect was born to eliminate casteism and a myriad evils & superstations connected with it.
He wrote several booklets to bring out essential teachings of Basaveshwar & tried to bring out unity among his later day followers. In 1911 started "Shravana Upnyasa Male" (Programs on social prayers (bhajan) and lectures/preaching's) in Davangere with the help of His holiness Mruthanjaya Maha Swamy of Murugha Matha Dharwad.
In 1913 started celebrating Basava Jayanti publicly, in 1905 published first book 'Swa Kartavya Siddhanta' [ 'ಸ್ವಕರ್ತವ್ಯ ಸಿದ್ಧಾಂತ']
In 1909 influenced by Mahatma Gandhi's activities and involved in his Satyagraha and other activities and first time in Kannada published a book about Mahatma "Mahatma Gandhi Charitre" [ 'ಮಹಾತ್ಮಾ ಗಾಂಧೀಜೀ ಚರಿತ್ರೆ'].
In 1922 published a book "Satyagraha Dharma" [ 'ಸತ್ಯಾಗ್ರಹ ಧರ್ಮ'] and started "Satyagraha Samaja" in Hubballi.
In 1923 established "Satyagraha Ashram" [ 'ಸತ್ಯಾಗ್ರಹ ಆಶ್ರಮ'] near Harihara bank of Tungabhadra river.
In 1924 'Basava Charitre' [ 'ಬಸವ ಚರಿತ್ರೆ'] a research book published, in the month of March he stayed for three weeks in Sabarmati Ashram of Gandhiji, to have firsthand experience of a Satyagrahi. He had a leading role at 1924 session of Belgaum of Congress Party with his organization "Basaveshwara Seva Dala' ['ಬಸವೇಶ್ವರ ಸೇವಾದಳ']. He gave a book 'Satyagrahi Basaveshwara' to Gandhiji.
In 1925 he toured hundreds of villages of Bijapur District with Bathanala Maha Swamy, to stop bad habits of village people and create awareness about, patriotism, nationalism, gender-equality etc.
In 1926 'Basava Bhodhamruta' [ 'ಬಸವ ಭೋಧಾಮೃತ'] book published.
In 1927 he met Gandhiji at Gulbarga and requested to guide to open an education society, He opened an ashram school in Almatti
In 1931 started 'Sharana Sandesh' [ 'ಶರಣ ಸಂದೇಶ'] weekly magazine.
In 1935 to provide equal rights to women and create awareness about gender equality, started Akka Mahadevi Jayanti.
In 1938 published two books 'Shuddhi Mattu Sanghatane' [ 'ಶುದ್ಧಿ ಮತ್ತು ಸಂಘಟನೆ'] and 'Vachanakarara Samaja Rachane' ['ವಚನಕಾರರ ಸಮಾಜ ರಚನೆ']
In 1942 due to world war there is a scarcity of paper, prepared the paper by hand and continued the weekly magazine 'Sharana Sandesh' ['ಶರಣ ಸಂದೇಶ']
He has written 40 books including his autobiography. He underwent several trials and tribulations to see his country become independent.
In 1947 January 3rd took his last breath.