*
Anubhava Mantapa = The assembly organized by Guru Basavanna in the city of Kalyana to facilitate gathering together for philosophy and experience.
Anubhava Mantapa was the first parliment in history of mankind. Prabhudeva, a great Yogi of extraordinary achievement, was the president and Lord Basava acted as the prime minister. Chennabasava can be compared to the speaker while at the same time working as the editor, and compiler of Vachana literature.

The only difference between the present day parliament and Anubhava Mantapa is that the members were not elected by the people, but were picked up or nominated by the higher authorities of the Mantapa; the necessary qualification expected being spiritual attainment. The problems tackled were of a various nature covering social, religious, spiritual, yogic psychological, economic and literary spheres.

Members of the Mantapa and followers of the religion were given full freedom of thought, speech and action. They were allowed to put any questions or doubts to get them cleared in front of the congregation and a systematic program was launched to record and to preserve the dialogues that were going on in the House.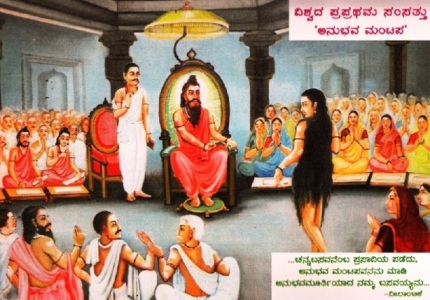 These discussions reminisced us of Dialogues of Plato, the great Greek philosopher. But they differ from the later in being characterized by a high type of mystic experience. As silent documents we can see even today the caves cut out of the brittle stony hillocks, in and around the city of Kalyana.

The people of high caste, with their vested interests tried to impose on the ignorant masses the idea that the former are the issues of meritorious ancestry and that the latter are of sinful birth. Owing to their ignorance the low-casts and untouchables laboured under the delusion that they were born to be slaves because of the sins committed during and inherited from their past births. They believed that to strive to improve their miserable plight was a heinous sin, and that to live where and as they lived was their life's purpose as well as its fulfillment.

Anubhava Mantapa criticized sharply the meaningless differentiation of human beings as high or low either on their birth or on their occupation. Unique preaching's of equality charged with the acceptance of the parenthood of god and the fraternity of humanity fascinated the tortured minds and consoled the gasping hearts of the oppressed and distressed masses.

The burning zeal of Basava to place religion on a democratic basis, his passionate love for God and his untiring energy in serving humanity added to the glory of Anubhava Mantapa .

The Lingayath religion, being reformative in its out-looking was more progressive than aggressive. It placed more emphasis on evolution by tergiversation or change of mind rather than on sanguinary revolution. So it is not to say that Basaveshwara and his followers were imbued with an antagonistic spirit towards any other community. But, "Rev. N. C. Sargent aptly says, "Basava's aim was not to oppose or propose any religious or philosophical system; but to show people the existing social and religious evils and, if possible, to remove these evils from society".
The fundamental principles accepted by Anubhava Mantapa may be summarised as follows:
All are equal;
No man is high or low either by birth, sex or occupation.
Woman has equal rights with man to follow the path of self-evolution.
Universal brotherhood, Community approach (team work) and Practice before preach.
Each one should follow a profession of his own choice.
Varnas (or castes) and Ashrams (or stages) are to be discarded.
Renunciation and dwelling in forest are ruled out as cowardly tendencies to escape from life.
Inter-group marriages and free dining should be encouraged.
Untouchability has no place in the society.
Every man is free to think on all spiritual and social subjects.
Reason and experience are the only guiding lights for free thinking and spiritual advancement.
Language of the people should be the medium for imparting spiritual and secular education.
All men have equal rights to participate in spiritual discussions, to acquire spiritual knowledge and follow the same path of self evolution.
| | |
| --- | --- |
| Sharana name | Occupation |
| Allama Prabhu | A Drummer |
| Molagi Marayya (King of Kashmir Mahadeva) | A wookcutter & seller |
| Madivala Machideva | A Washerman |
| Dohar Kakkayya | A hide and skins-worker. |
| Madaar Channayya | A cobbler |
| Chikkayya | A Mahar |
| Hadapad Rechanna | A Barber |
| Kinnari Bommayya | A musician |
| Nuliya Chandayya | A rope-maker |
| Aidakki Marayya | A picker of grains. |
| Amugi Devayya | A tailor |
| Vokkal Mudayya | A peasant |
| Turugahi Ramanna | A cowherd |
| Bahurupi Choudayya | An Entertainer |
| Medar Ketayya | A basket-maker |
| Ambigar Choudayya | A boatman |
| Dhakkad Bommanna | A War-trumpet blower |
| Ketar Sangayya | A robber |
| Kannappa | An oil pressman and seller |
| Sanganna | A doctor (a herbal medicine man) |
| Haralayya | A leather worker |
| Somayya | A gardener |
| Kankad Nachayya | A Goldsmith |
| Madhuvarasa | A minister |
| Shivadevaru | A trader |
| Kaderi Remavve | A weaver |
| Ratnada Rachayya | A jeweller |
All these persons belonging to various occupations and professions were the members of the Anubhava Mantapa.